Or, "How a near-obsolete piece of technology helped identify a box of mystery photographs."
In 2004 or 2005 I received email from Oliver Parsons in England. He recently came across a set of photographs of a magnificent mansion but the photos and the box that contained them provided only a few clues, none of which could immediately identify the house nor its location… which turned out to be all the way across the ocean in Irvington, New York, the United States! How was this determined? Well, I'll simply let Oliver's telling provide the answer. I seem to have lost his original email to me, but this is a later message that he sent to the Irvington Historical Society.
Here is the story very much in brief from the beginning.
The brother of a friend died, and in his possessions THE BOX was found in his garage.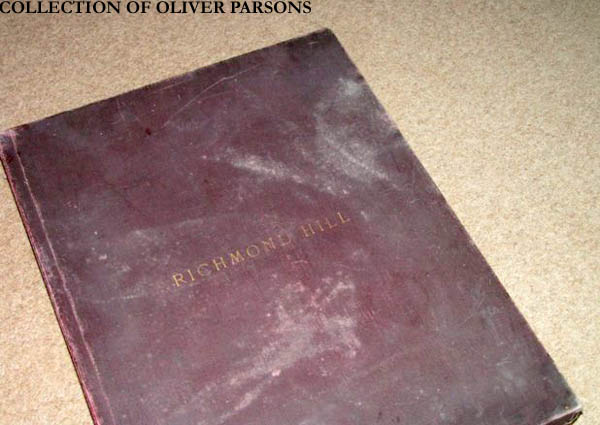 The box was once deep red, with gold letters inscribed RICHMOND HILL. Inside there are some seventy professional high-quality photographs of the interior of a fine house.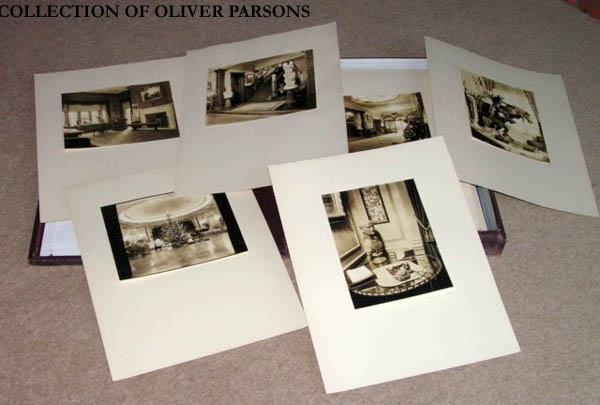 The photos were all carefully staged – no people – no exteriors – very few clues. So I tried Richmond, Surrey, Richmond, Yorkshire – no leads there. To my horror the gazetteer shows some 25 places in the world called Richmond or Richmond Hill! Then the penny dropped that RICHMOND HILL was the name of a house, rather than a town. So where does one start? Clues in the photos – there is a calendar and a Christmas Tree that dated in at December 1930. There are a few portrait photographs, but whose were they?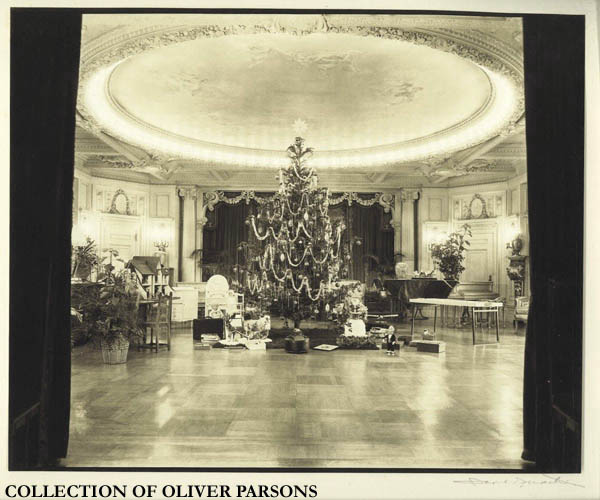 Ballroom with Christmas Tree.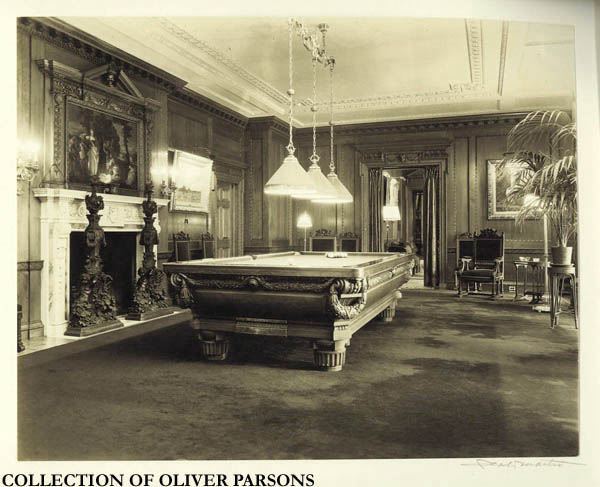 View of Billiard Room into Sitting Room.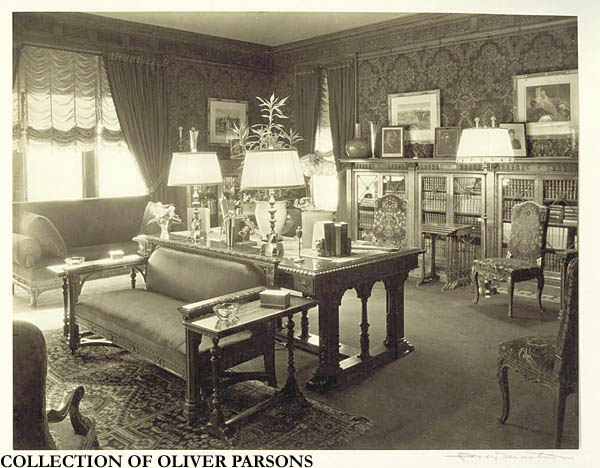 Library.
The internet produced several likely places including Richmond Hill Inn, Asheville, NC, and surely there it is. But it was not. I tried the Richmond Hill, NY, historical society, but they did not recognise it. I found a record of an architect called Hill who had built houses around Washington, but it was not his. And so the quest went on.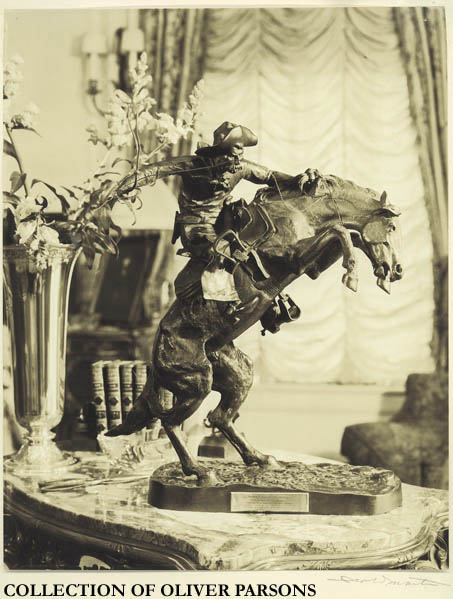 Broncho Bill.
There are a number of fine bronzes, including Broncho Bill with an inscription to George Hill from "his broncho busters." But who could George Hill have been?


Broncho Bill inscription.
And in one photograph there is a telephone. And on the phone there is a disc that can just be discerned as IRVINGTON. Would you believe that there is a website that collects old telephone exchange names that led me to Irvington, NY! There I have had great help from first Betsy Sadewhite of Westchester libraries, Lord & Burnham who built the conservatory, and then from Rob, and many others along the line.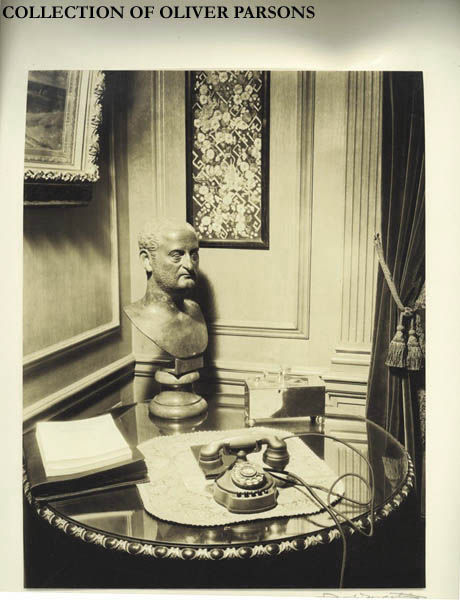 Bust and telephone.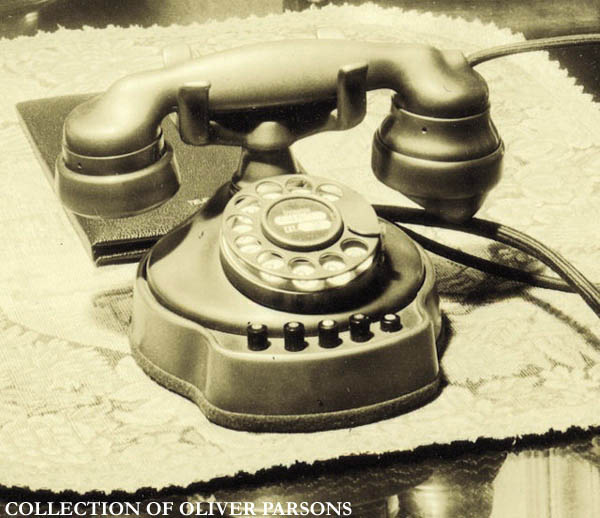 Telephone (detail).
Here is one of a number of pictures of the house that I now have. This one dated 1896 is described Dr Lucien Warner's house (of corsetry and Warner Gymnasium).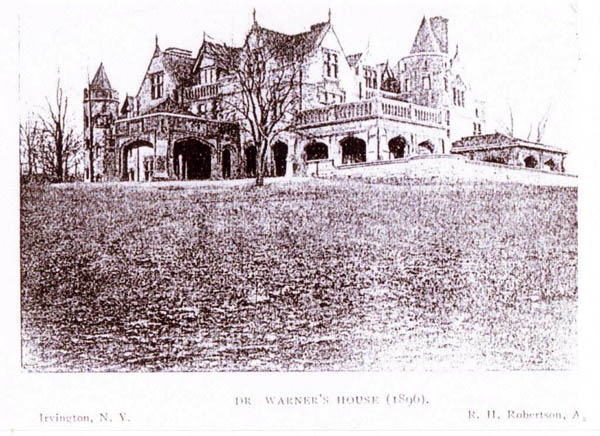 Dr. Warner's House, 1896.
Then I learned about Daniel Gray Reid, and George Washington Hill of American Tobacco (in)famy. I have recently made contact with a descendant of George Washington Hill's brother, and the quest goes on.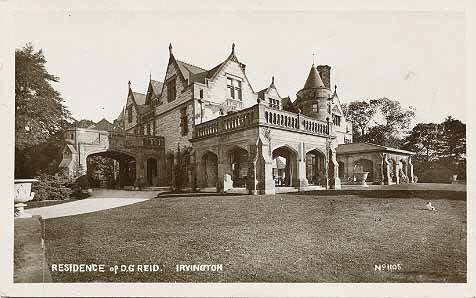 Residence of DG Reid, Irvington.
And here is George Washington Hill's portrait taken in 1945, the year before he died at 61.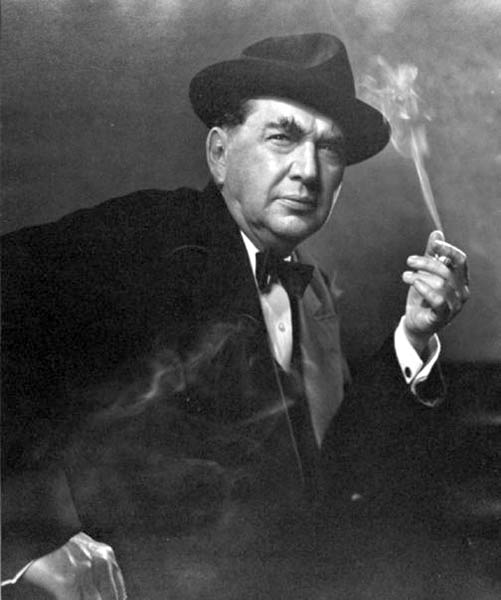 George Washington Hill.
Two things puzzle me still. I cannot trace any record of the photographer, whose signature appears to be Paul W Martin, and how the box came to my friend's brother, who lived at Harrow, Middlesex, UK. If I can learn more about the photographer, this could throw light.
Sadly I was a quarter century late to see the actual house!
Regards
Oliver Parsons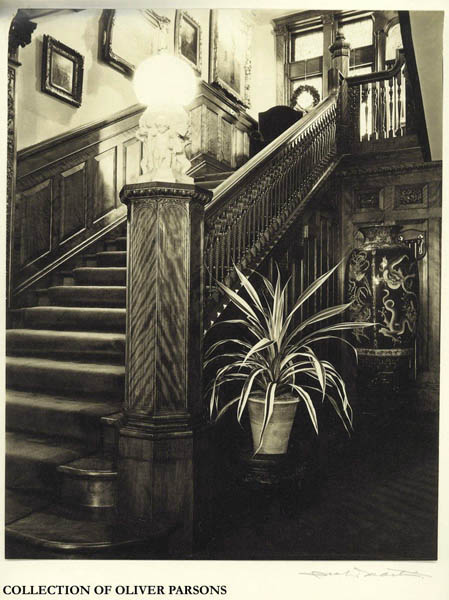 Stair from hall.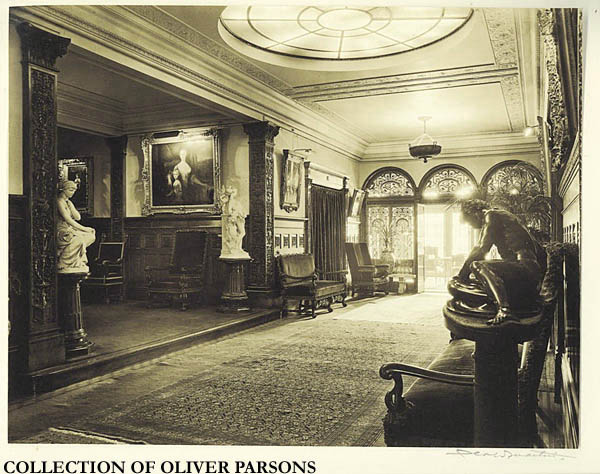 Hall towards stair and conservatory.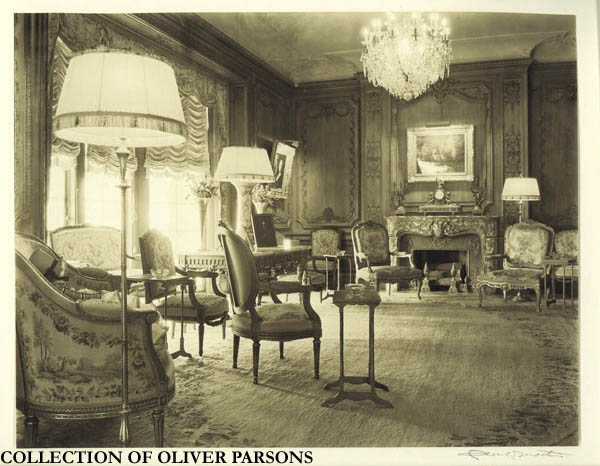 Paneled room with big bay.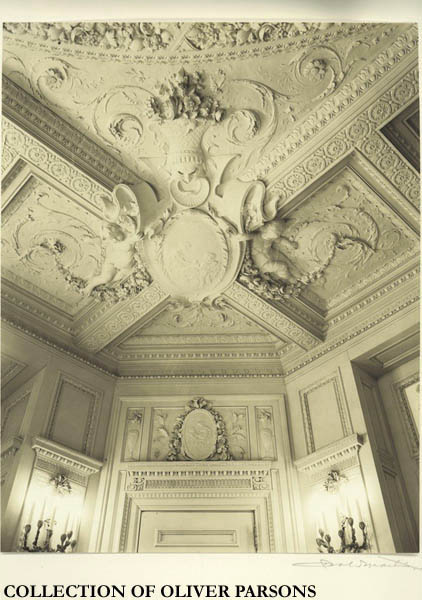 Ceiling detail.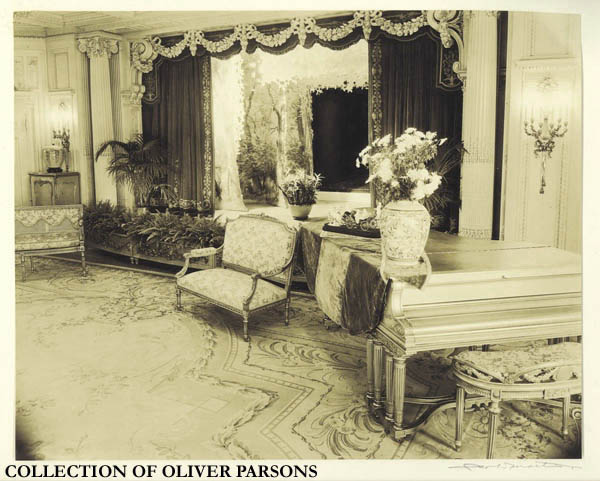 Ballroom with stage.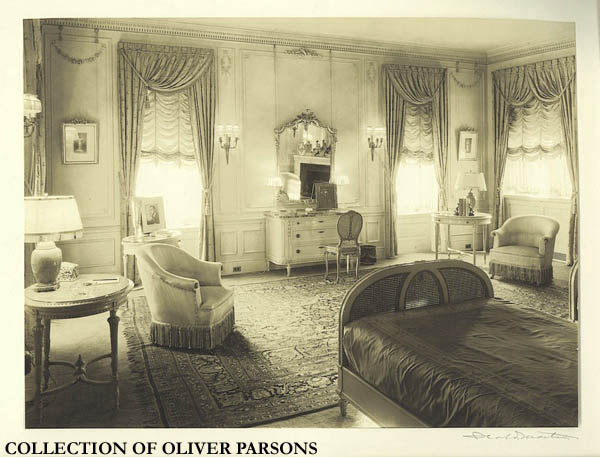 Bedroom.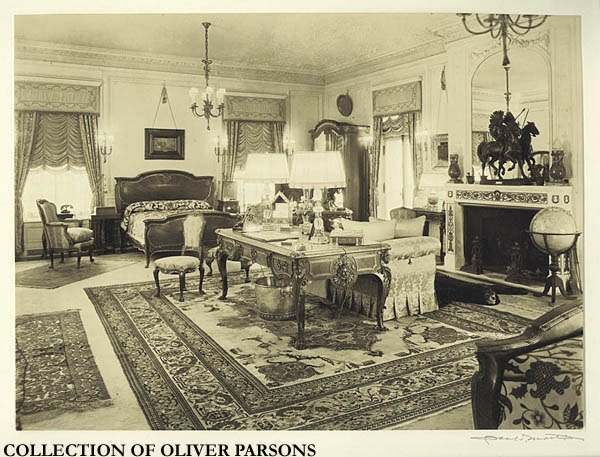 Main bedroom.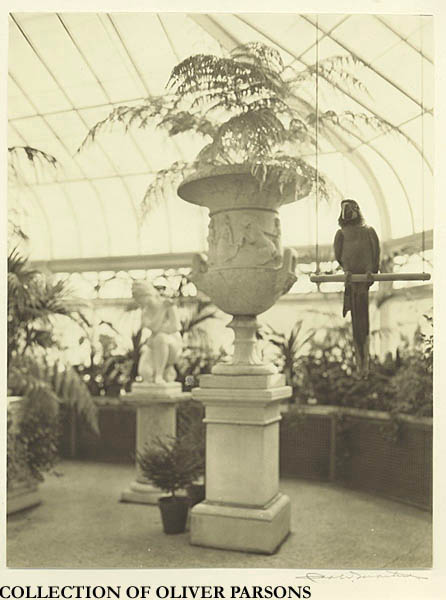 Palm house with parrot.
Well, all hail the land-line rotary phone! Had that element not been included in the one photograph, and surely its presence was not necessarily intentional, these photographs might still remain unidentified. Many thanks to Oliver Parsons for allowing me to post his images to my site, and for sharing his story.
An entry for Richmond Hill already exists on the Hudson Valley Ruins website where previously I have incorporated one or two images and some of the historical information that Oliver shared with me. I thought it would be a fun blog entry to share his story too.
Richmond Hill was last occupied as a yeshiva until 1979, after which it was demolished and replaced by condominiums.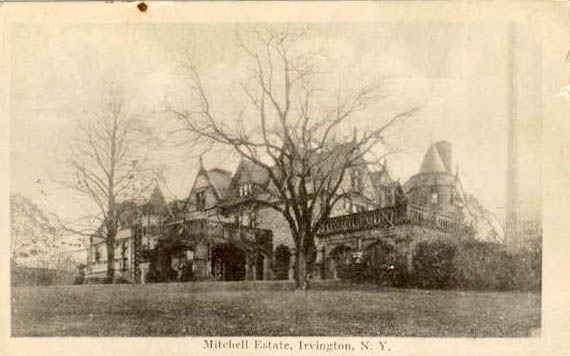 Another postcard view of the mansion.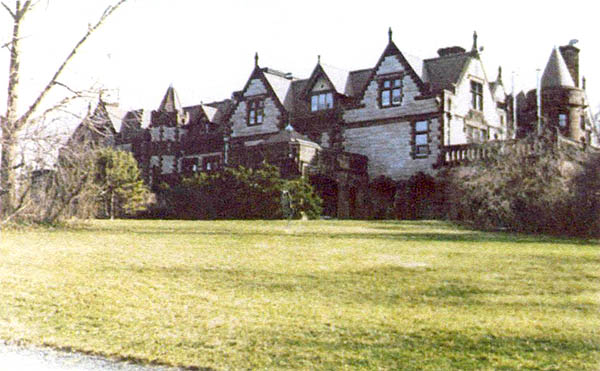 Richmond Hill, 1979. This is one of the last photographs taken of the house. I don't recall where I obtained the image from.
UPDATE:
Here is a link to an historic aerial photograph of the estate, submitted by Robert Stava:
http://digitalcollections.smu.edu/cdm/singleitem/collection/ryr/id/359
And a Bing.com link to an aerial view of the property today:
http://binged.it/1fPrtJr