On Saturday September 15 at 2:00pm at the Foundry School Museum in Cold Spring, NY, Thom Johnson and I will reprise our standing-room-only presentation of this past February about the history of the Northgate estate and its ruins. Following the presentation we will lead a hike to the ruins.
Our September presentation will feature newly uncovered historic photographs of the estate. We have already seen photographs from the Collection of Victoria Rasche, grand-daughter of Joel O'Donnell Cornish, the last owner of the estate. Joel was a nephew of Edward and Selina Cornish who owned the estate from 1917 until their deaths in 1938. Now we have photographs that show the estate as it was owned by Sigmund Stern, including photographs of the mansion under construction and even photographs that show the site before the mansion was built!
These photographs come from the Collection of Robin Huntington, a great-grand-daughter of Sigmund Stern. In late 2008, Connie Bloom, a great-great-niece of Sigmund Stern contacted me with information about Stern, of whom we previously knew very little. She also had family photographs but they did not show the Cold Spring estate. She later found out that Northgate photographs existed with her relative Robin, who did an excellent job scanning the photos. A small sample of the "newly-found" Stern photographs appears below, and we will show more of these images in the September presentation.
Several of the photographs show a farmhouse immediately north of the Northgate mansion. From studies of maps and from our observations of the landscape, we felt certain that several farms existed at the estate prior to its development by Sigmund Stern. We did not expect to see a house situated right next to the mansion that stands in ruins today. This farmhouse was likely demolished after Sigmund Stern completed construction of the Northgate mansion. A small farm structure associated with this farmhouse actually survived into the 1990s; it's roof has since fallen in and only its stone foundation remains today.
We are continuously learning more about the history of the estate and we hope that each new discovery of information and photographs leads to answers for questions that we still have. Who was the architect of the mansion and grounds? What buildings were constructed at what dates? How late did each building survive before falling into ruin or before demolition?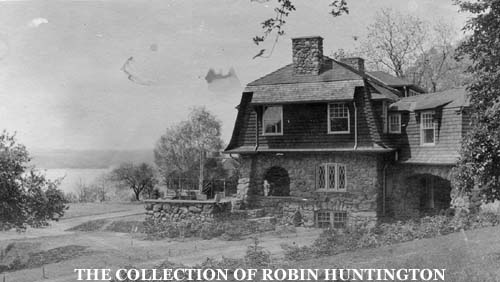 Northgate mansion with grounds still under development. Farmhouse visible in background.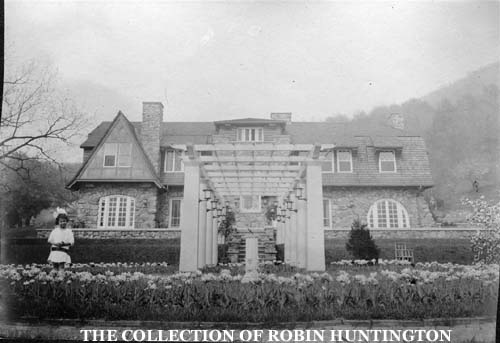 Northgate mansion with pergola, flower bed and unidentified child.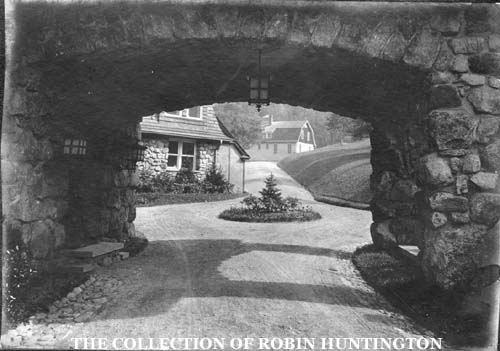 Mansion porte cochere with view of a barn that stood just north of the present greenhouse ruins.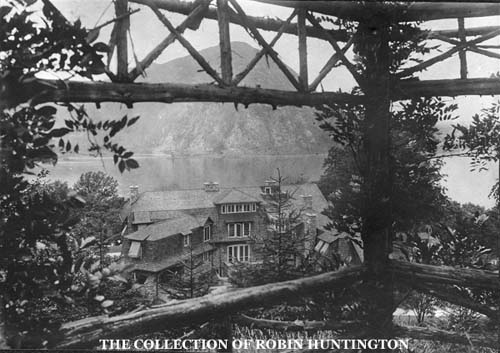 View of mansion from one of two gazebos or "summer houses," foundations of which remain today atop an overgrown but evident trail network.
We ask that you please do not copy these images for hosting on any other website nor should the images be reprinted without permission from Robin Huntington. Please, however, feel free to link from your website to http://www.hudsonvalleyruins.org/rob/?p=1089.